Lots of brides find that when it comes to buying a wedding ring plain bands don't sit very comfortably against their engagement ring. What are the options?
Many shops will try to sell you something that almost fits or they will post your engagement ring to a faceless workshop miles away, meaning you are without it for weeks. This need not be the case. Ian Mortimore can hand make a fitted wedding ring specifically to fit your engagement ring making them a perfect set. And he may only need your engagement ring for as little as a few hours.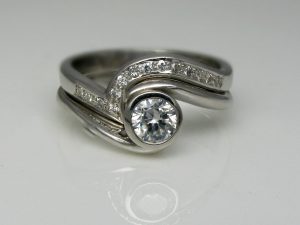 For more information on how a bespoke, fitted wedding ring might work for you, or on re-melting your old sentimental gold into something special for your big day, please call Ian Mortimore on 01629 636826, visit www.imjewellery.com or find him on Facebook at IM Jewellery.